Wtih Defense Secretary Robert Gates retiring on June 20, the Stars and Stripes reports that certification of "Don't Ask, Don't Tell" repeal is unlikely to happen before that happens.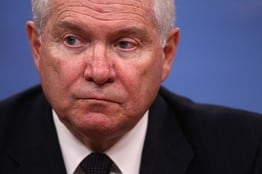 Defense Secretary Robert Gates is unlikely to certify repeal of "don't ask, don't tell" before leaving office next week, senior defense and military officials said…
…Gay rights groups have for weeks been pushing for Gates to wrap up the process, concerned that his replacement, CIA director Leon Panetta, might wait several more months before moving forward. Now, with Gates' retirement just days away, that's becoming less realistic.
Final assessments on the progress of the training are due this Friday:
Those reports will help the Army chief of staff's office compile its final recommendations on repeal, which the defense secretary and chairman of the Joint Chiefs of Staff Adm. Mike Mullen must review before certifying the change.