Rick Perry reaches out to biggest anti-gay advocate in Iowa for advice.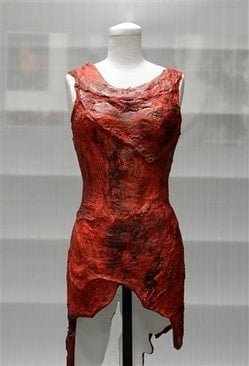 Lady Gaga's meat dress is now the most fashionable piece of beef jerky in the country.

VIDEO: World's first dog fitted with four prosthetic legs.

Minister pleads "not guilty" in Methodist trial: "Nearly two years after she officiated a wedding ceremony for a lesbian couple and filed for domestic partnership status in Polk County, the Rev. Amy DeLong pleaded not guilty during a United Methodist Church trial Tuesday to charges she is a 'self-avowed practicing homosexual' who performed that same-sex union in violation of church laws."

On Gay Pride week, 62 reasons why Michael Musto hates being gay.

"Kill the gays" bill author David Bahati's star rises in Ugandan politics, and American evangelical group: "The government-affiliated New Vision today reports that Bahati has been named chairman of the Ugandan Fellowship, a branch of the U.S.-based secretive group known as the C Street Fellowship or The Family."

Alan Ball: Season 5 of True Blood may be last. "Right now I'm in the middle of negotiating for a fifth season. I don't know if I have any left in me after that. We'll see."

WATCH: Trailer for Footloose remake looks pretty boring.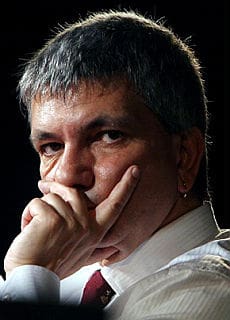 Nichi Vendola, Berlusconi's gay rival.

Gay men report more sexual issues taking prostate cancer drug than straight men: "The patients were asked to compare their sexual functioning — erectile function, orgasmic function, sexual desire and overall functioning — before treatment started and five weeks after it commenced."

More gay bashing from the Michigan GOP.

All the action at the True Blood Season 4 premiere.

British Prime Minister David Cameron to host LGBT reception: "Sportsmen Gareth Thomas, Steven Davies and Ben Cohen are all expected to have been invited, along with community leaders and volunteers from across the country. One prominent gay rights figure who won't be there is Peter Tatchell. The activist has never received an invitation to Downing Street, despite being one of Britain's best known gay rights campaigners."

FLASHBACK: When the Big Man kissed The Boss.

Police: Jackass star Ryan Dunn's alcohol twice the legal limit when he crashed his car at 130 mph.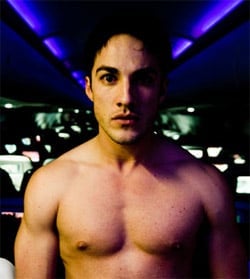 Vampire Diaries Michael Trevino does a shirtless photo shoot on a Virgin America plane.

Humans could have geomagnetic sight.

Nigerian women's football coach: "Yes, lesbianism used to be a big problem in the team, but since I took over as the chief coach of Falcons, I think the problem has been dealt with. Lucky, some of the girls played with me and they know my dos and don'ts. They know that I cannot tolerate such a nasty practice. In fact, lesbianism does not currently exist in Falcons' camp and nobody discusses it."

Sarah Palin quits halfway through bus tour.

Kerry Eleveld: What will Obama tell the gays under the shadow of Lady Liberty? "Obama doesn't have the cover of two competing Democratic candidates who also hold the same position of not supporting marriage equality; when he took office, only one state had legalized marriage and now five have plus the District of Columbia…"