UPDATED
Yesterday in my news round-up I mentioned that comic and 30 Rock actor Tracy Morgan had unleashed a homophobic rant at a stand-up comedy routine.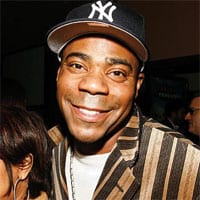 Truth Wins Out, which reported on the story on Wednesday evening, has called on Morgan to apologize for the disgusting anti-gay diatribe:
Eyewitness Kevin Rogers, who attended with his partner and a friend, gives a firsthand account which describes how Morgan's entire demeanor changed as he allegedly claimed that being gay is a choice, that homosexuality is something that kids learn from the media, and that gay youth victims of bullying are simply "whining."
Furthermore, he allegedly said that if his son was gay and "whined" about being a bullying victim, he would kill him, using words that will not be repeated here.  Morgan is also said to have called upon President Obama to "man up" and stop speaking out for LGBT kids.  According to the report, these were only some of the most egregious parts of this anti-gay tirade. 
Read the full account of the show, which is quite graphic, here.
Morgan's publicist has issued a response to the controversy: "There is no comment, thank you for your inquiry."
Towleroad has reported on Morgan's show once before, in 2009, when the NYDN reported that Morgan's trash talk about gays had inspired a steady exodus of people from his show at Carnegie Hall.
UPDATE:
TMZ said they heard from another person at the show: "TMZ spoke with someone in attendance at the Ryman Auditorium … who tells us Morgan's entire act was filled with offensive gay jokes … explaining, 'It was the worst thing I've ever heard … so not funny.'"
The Ryman Auditorium responded in a statement, saying the theater "regrets that people were offended by statements" Morgan made, adding that it "does not control the content presented by people appearing on its stage, nor does it endorse any of the views of, or statements made by, such persons."
And GLAAD has issued a statement:
"Tracy Morgan's management needs to investigate these allegations and should they prove true, we call on him to remove these violently anti-gay remarks from his show and send a strong message that anti-gay violence is not something to joke about," said GLAAD President Jarrett Barrios. GLAAD is working to confirm the story with Morgan's management and hopes to have more details today.
The alleged remarks included that if his son were gay he "better talk to me like a man and not in a gay voice or I'll pull out a knife and stab that little n**ger to death."  He also allegedly aid that "Gays need to quit being p**sies and not be whining about something as insignificant as bullying." He allegedly added, "Gay is something that kids learn from the media and programming."