Amid rampant speculation about whether or not Obama will "evolve" enough on the issue of marriage equality to endorse it at tonight's LGBT fundraiser at the New York Sheraton, or whether he will mention it at all comes some confirmation from the White House, the Atlantic reports: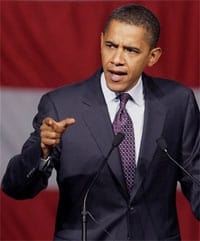 White House Press Secretary Jay Carney expects President Obama to break his recent silence on same-sex marriage at an LGBT fundraiser tonight. But he doesn't anticipate any surprises, "I'm sure he will mention it," said Carney to the White House press pool. "And I think [he'll] make the point that he always has that he believes that this is something that states should be able to decide."
The Washington Blade has Carney's full transcript.
As I mentioned earlier, protesters are gathering outside the Sheraton to demonstrate against Obama's foot-dragging on LGBT issues.
In an article posted earlier today, Sam Stein noted the duality within the LGBT community over the progress that's been made:
The combined effect has been incredibly beneficial to LGBT causes, casting them up the list of pressing political topics. But it also has produced a tension in its own right among gay rights groups. There is, on the one hand, the veritable old guard, who recalls the days when they were part of the national political sideshow. And then there is a new generation of activists — not all of them young, per se — far less willing to see their priorities addressed in incremental fashion.
We'll be letting you know what happens inside and outside of the fundraiser, later.
In related news, Good As You has published a fantasy Obama speech. We wish.