Oklahoma Rep. Sally Kern is just one of several letters from an "outpouring of support" New York State Senator Ruben Diaz Sr. says he's received since casting his vote against marriage equality in New York.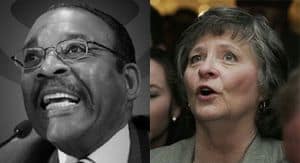 Wrote Kern, who as you may recall is famous for her rant saying gays are more of a threat to America than terrorists, in her letter to the Senator:
"Sen. Diaz, you are in my prayers. Three years ago I was the target of the homosexuals because of statements I made regarding the dangers of the homosexual agenda. So I know what you are going through. Continue to stand strong on God's Word. What the homosexuals mean for evil toward you, God will use for His glory, your good, and the benefit of others. God bless you and your family."
Equality is a terrifying concept for some.