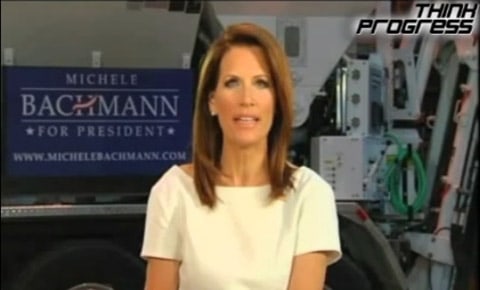 Think Progress' Igor Volsky notes that in an interview with a local ABC News affiliate, Michele Bachmann dodged questions about her husband Marcus Bachmann's clinic which practices "reparative therapy" for homosexuality through prayer.
Says Bachmann when asked about the clinic:
"Well, I'm running for the Presidency of the United States and I'm here to talk about job creation and that we do have a business that deals with job creation. I'm very proud of the business that we created and I'm here today in Indianola, Iowa."
Watch, AFTER THE JUMP…
TP's Zack Ford notes in a later post that Bachmann once tried to pass a Minnesota law which would have established legal protections for those like her husband practicing harmful "ex-gay" therapy.