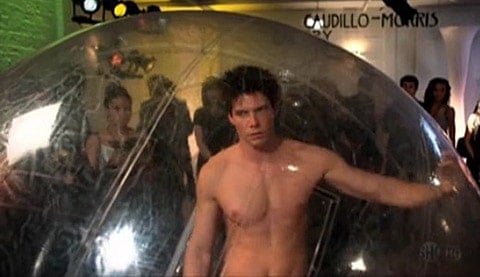 I don't want anybody complaining that this isn't news.
Watch the clip from Weeds, AFTER THE  JUMP…
"Silas had something going in Copenhagen as a model, so he decided to dip his toes into the New York modeling scene on 'Weeds'. He actually managed to score a well-paying gig, but when it came time for it, the scene was kind of bizarre and ultimately dangerous. Silas was basically trapped in a giant clear rubber ball sporting nothing but a tiny white pair of trunks. Sure, he looked the part, but when things went wrong, could it hurt his chances at future gigs in this actually legitimate business venture?"