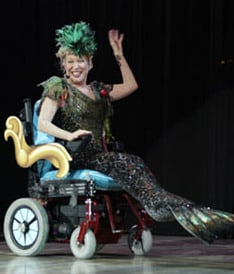 Lady Gaga caused some controversy during a concert in Sydney last week, when she rolled onto stage as a mermaid in a wheelchair.
Differently-abled activists were upset by Gaga's antics, and some demanded an apology, and may have been behind Gaga nearly getting egged while coming out of a gay bar this weekend.
Singer Bette Midler, however, has a different bone to pick: she took to Twitter to remind Gaga that she originated the Mermaid wheelchair bit over three decades ago.
I'm not sure @ladygaga knows that I've performed my mermaid in a wheelchair for millions of people — and many of them are still alive," The Divine Ms. M wrote. "Dear @ladygaga if you think a mermaid in a wheelchair seems familiar-it's because it is!You can see it on youtube 24/7-with ME performing it"
She also remarked, "I've been doing singing mermaid in a wheelchair since 1980-You can keep the meat dress and the firecracker tits – mermaid's mine."
Midler forgot to mention that Kurt Cobain also used a wheelchair during a 1992 performance.
Watch Midler's Mermaid character, Delores Delago, AFTER THE JUMP…