As the Senate Judiciary Committee plans to hold its first hearings on a bill to repeal the Defense of Marriage Act (DOMA), White House Press Secretary was asked about the President's support for repeal at today's press briefing, Think Progress reports.
Said Carney, in response to a question from MetroWeekly's Chris Geidner: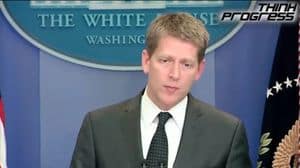 I can tell you that the President has long called for a legislative repeal of the so-called Defense of Marriage Act, which continues to have a real impact on the lives of real people — our families, friends and neighbors. He is proud to support the Respect for Marriage Act, introduced by Sen. Feinstein and Congressman [Jerrold] Nadler [(D-N.Y.)], which would take DOMA off the books once and for all. This legislation would uphold the principle that the federal government should not deny gay and lesbian couples the same rights and legal protections as straight couples.
Watch, AFTER THE JUMP…
This morning I posted a list of witnesses that would be testifying at the Senate hearings and information on them.