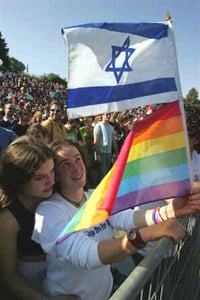 A man claiming to be an American activist this week posted a YouTube video in which he said homophobic organizers of Palestine's Gaza flotilla protest ousted him for being gay.
Now that man has been identified as Tel Aviv-based actor Omer Gershon, and Israeli activists are pointing the finger at their government's alleged "pink-washing" against the Palestinians.
"It's highly embarrassing on so many levels," Israeli activist Hagai El-Ad told Salon's Justin Elliot. "I find it outrageous that anyone would try to use the relatively good reality of LGBT rights in Israel to try to somehow hide human rights violations against anyone else."
Gershon's video began made the rounds after an intern from Israeli Prime Minister Benjamin Netanyahu's office, who posted a tweet reading, "New video showing the hypocrisy of the freedom flotilla's human rights venture."
The Israeli government's press office also shared the video, telling their Twitter followers, "Be careful who you get in bed with."
And the Foreign Ministry also got in on the action. Both offices, however, later recanted their messages, with the press office apologizing for supporting "an apparent hoax."
El-Ad tells Elliot the Gershon video is only one example of the Israeli government's "pink-washing:" "The flotilla video is perhaps the jewel in the crown of this pink-washing campaign, but it's certainly not the beginning of it. I hope the embarrassment this should have caused will spell the end of it, but I doubt that it will."
He also says that the flotilla activists do indeed include LGBT people, although does admit that Israel is more progressive than both Gaza and the West Bank.
What say you, reader? Do you think the Israeli government is pulling strings to smear Palestinian activists?
Watch the Gershon video, AFTER THE JUMP…