Earlier this week, some audio received attention of Michele Bachmann talking about homosexuality, LGBT people, and her "sad" openly gay family member at the National Education Leadership Conference in 2004.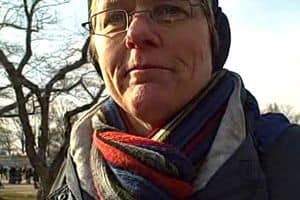 "I am not here bashing people who are homosexuals, who are lesbians, who are bisexual, who are transgendered. We need to have profound compassion for the people who are dealing with the very real issue of sexual dysfunction in their life, and sexual identity disorders. This is a very real issue. It's not funny, it's sad. Any of you who have members of your family that are in the lifestyle—we have a member of our family that is. This is not funny. It's a very sad life. It's part of Satan, I think, to say this is gay. It's anything but gay."
Salon.com's Natasha Lennard this week posted video of Bachmann's out lesbian stepsister Helen LaFave (with with her long-term partner Nia Wronski) - at Obama's inauguration talking about how meaningful it was.
Watch LaFave and Wronski unleash their satanic wrath, AFTER THE JUMP…
Previously…
Michele Bachmann Calls Gay People 'Part of Satan': VIDEO [tr]
Helen LaFave and Nia Wronski at the Inauguration Jan. 20, 2009 from julie phillips on Vimeo.