Rapper Lil B has released I'm Gay (I'm Happy), the album he announced to some controversy during Coachella. The album was released abruptly, and containsis not "commercially directed" according to MTV.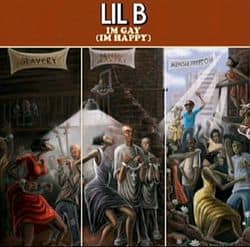 At the time of Lil B's announcement, GLAAD expressed concerns that the album's title was merely a publicity gimmick.
His message is poignant, no doubt, but the album title is misleading as well. In April, Lil B denied any notion of being gay himself, but to barely address the issue on the LP is a glaring omission. "I'm very gay, but I love women," he said at the time, referring to the alternate meaning of the word. "I'm not attracted to men in any way. I've never been attracted to a man in my life. But yes I am gay, I'm so happy. I'm a gay, heterosexual male."
A commenter in MTV's thread writes:
the "omission" of the Homosexual themes are there mainly because the album only uses the word "gay" on the album cover to break down the barriers of the african american stigma with homosexuality, but uses the quantifier "im happy" (the past meaning of the word) to actually refer to what he's going to be talking about on the album. he's speaking of mental freedom (a.k.a happiness) and its amazing. i know saying THANK YOU BASED GOD is the meme of the century, but seriously, thank you.
"In his defense, Lil B said that his intent for the album was to breakdown barriers and show that words don't mean anything. 'Don't let a word make you discriminate upon another human,' he said when he appeared on 'RapFix Live' this past May. 'Because at the end of the day, no matter what you do, I should be happy for you, because you're alive. You're living life.'"
What are your thoughts? Has anyone listened to the album or is well-versed enough with Lil B to get his intentions? Was the title a gimmick, or, as the commenter notes, serving to break down stigmas?