Voter referendum expected if Maryland passes marriage equality law.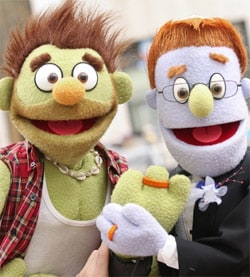 Gay Avenue Q puppets marry outside NY marriage bureau. Video.

Ben Affleck works Bieber haircut.

Rob Lowe sports frosted tips.

Swing Senators swing by Cuomo's marriage equality party: "Huntley was one of four state senators who made it to the party, along with fellow Democrat Tom Duane, and two Republicans, James Alesi of Rochester and Stephen Saland of the Hudson Valley. All but Duane voted against the bill back in 2009."

World's largest Apple Store coming to NYC's Grand Central Station.

4-year-old twins serve as volunteer flower girls for Brooklyn same-sex marriages: "What is most precious about this gesture is that the family didn't even know anyone getting married … they just did this out of the kindness of their hearts."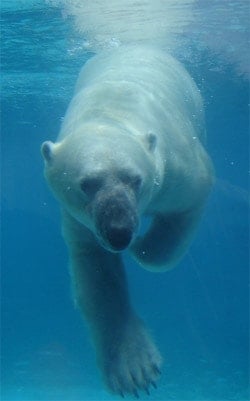 All Polar Bears came from Ireland.

Arson suspected in fire in Montreal's gay village.

Gay couples to wed tonight at Broadway's St. James Theatre following Hair performance: "Actress and singer Terri White (Finian's Rainbow; Follies) and her partner, jewelry designer Donna Barnett; actor Ryan Dietz (The Actor's Fund's Chess) and his partner, playwright Josh Levine (who also works at the Theatre Communications Group); and Broadway stage doorman John Raymond Barker and his partner, Jujamcyn theatre usher Jared Pike, will all say "I do" on Monday, becoming some of the first same-sex couples to legally marry in New York state. The marriages will be performed on stage after HAIR's curtain call by Tony Award nominee Colman Domingo (The Scottsboro Boys), who got ordained for the occasion."

Henry Cavill and Kellan Lutz bring their Immortal good looks to Comic Con.

Federal government would be collecting $716 billion in annual revenue if households making more than $1 million were taxed at the same rates they were back in 1961.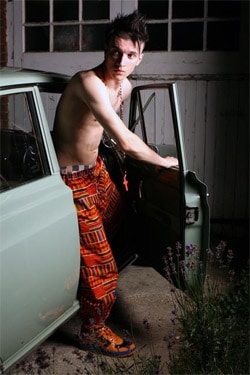 Frankmusik to tour with Erasure in North America.

NOM's Brian Brown seeks anti-gay army to fight NY's marriage equality law: "Brown said his group, and others, should build a new coalition to push for a statewide referendum on same-sex marriage. He proposed amending New York's constitution, which requires the approval of two successive legislatures and a popular vote. It would take until November, 2013, for such an effort to bear fruit, but legislative leaders have indicated no interest in allowing the necessary bills to floor votes."

Male model fix: Timmi Radicke.

Phillippines: Gay and lesbian prison officers may not search prisoners of their gender.

E.J. Graff: Obama's deliberative approach on 'DADT' repeal has prevented a backlash. "Obama's — and Congress's — repeal of DADT has been long, slow, and deliberate, which has had many advocates in a rage. I've admired it. President Bill Clinton tried to change what was essentially the same policy, with a stroke of a pen, as his first serious act in office — and the backlash both destroyed much of his authority and codified the approach he wanted to repeal. Had Obama tried it to repeal DADT out of the gate, I suspect he would have had a much harder time doing anything else."