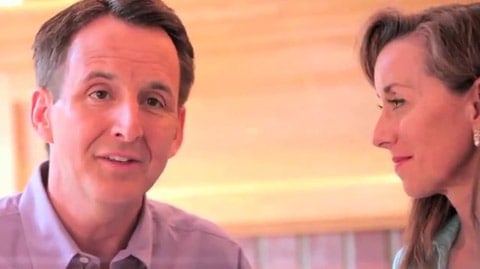 In a new video, presidential hopeful Tim Pawlenty pushes his Christian values and views on marriage:
"A traditional marriage between a man and woman is a moral building block of our society. It's in the Bible. God teaches us that. He values traditional marriage as between one man and one woman. That's something I personally believe strongly, and have always stood for that in my public life, and my personal life."
Watch, AFTER THE JUMP…
The WSJ notes, today:
Mr. Pawlenty is desperate to pull off a strong performance in Ames as he continues to lag in most public polls, both in Iowa and nationally. His campaign reserved nearly $200,000 in broadcast television time ahead of the Iowa straw poll as he continues to introduce himself to Republicans in the Hawkeye State, according to the same tally of media buying. That brought his total spending on radio and television advertising in the state to $436,991, or roughly a tenth of all the money he raised in his first three months as a candidate for the White House. This week, Mr. Pawlenty will tour Iowa in an R.V., with most of the stops less than an hour's drive from Ames.