You have ONE HOUR LEFT to enter the lottery to be married in New York City on Sunday.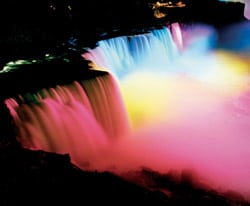 Outcome Buffalo reports that two lesbian couples at opposite ends of the state are vying to be the state's first same-sex marriage: "Buffalo residents Kitty Lambert and Cheryl Rudd have timed their wedding so that they can claim to be among the first same-sex marriages to be issued and solemnized in the state of New York….Meanwhile down on Long Island, The Viana Hotel and Spa in Westbury, New York will be the site of the wedding of Dee Smith and Kate Wrede on July 24."

The Mayor of Albany will marry up to 10 same-sex couples just after midnight: "Mayor Jerry Jennings said Tuesday he will begin performing marriages at 12:01 a.m. Sunday in the Common Council's chambers. He says a state Supreme Court judge will be available to waive the state-mandated 24-hour waiting period between the time a marriage license is issued and when a couple can be legally wed. The first 10 same-sex couples to return marriage licenses to City Hall on Friday will be eligible for the special ceremony in Albany."

NOM and Westboro Baptist Church are going to be in New York protesting the new marriage equality law this weekend. Here's Westboro's schedule. NOM will be protesting outside Cuomo's office.

The NYT interviewed young people about marriage equality. Here's a bit of it:
"If you want to live together, live together, but getting married, that's pushing it too far," said Wilson Valencia, 19, who was raised Catholic in the Bronx.
Still, personal freedom and happiness trumped religious mores.
Although he said he wasn't comfortable with same-sex marriage, mostly because of his Islamic faith, Mohammed Hosen, 19, of Kensington, Brooklyn, said same-sex couples should have the right to choose to marry if they want.
"As long as they're happy, why should it matter to me?" he asked.

31 same-sex couples are ready to marry in Niagara Falls: "Lynch and Korn are among 31 same-sex couples who have signed on to participate in what representatives from the Niagara Tourism and Convention Corp. believe will be the first group ceremony of its kind since last month's passage of the Marriage Equality Act. Representatives from the tourism agency have now officially set the date. The ceremony will take place at 10 a.m. Monday on Goat Island near the brink of the American and Bridal Veil Falls."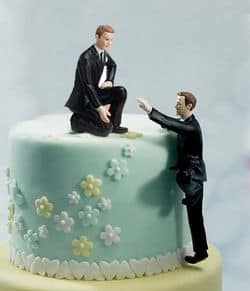 Marketers of kitschy souvenir trinkets are thrilled that same-sex marriage has arrived:
Couples will be able to toast their historic nuptials, and then cork leftover booze with wine stoppers adorned with $16 same-sex figurines.
They can wash down the next day's breakfast in coffee mugs that say " 'We do' Men" — which sells for $12.50. The female equivalent goes for $15.
Other fun-loving mementos include male-female rubber ducks and separate bride-and-groom figurines, now being marketed in same-sex pairings.

And right-wing and religious groups say they're prepared for a long battle against NY marriage equality:
National and statewide groups including the National Black Church Initiative promise a relentless legal and political effort to protect what they see as religious and individual freedom of the nearly half of New Yorkers that polls show oppose gay marriage. "I think it's highly likely there will be challenges based on the religious exemptions," said Dennis Poust of the state Catholic Conference. 
A report on the NYC lottery, AFTER THE JUMP…