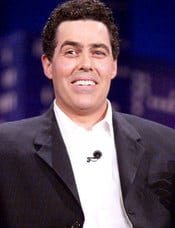 Adam Carolla came under fire for a nauseating anti-gay rant yesterday.
Rather than using the occasion to learn a lesson and admit his mistake, however, the former Man Show host issued a flat, pat apology: "I'm sorry my comments were hurtful. I'm a comedian, not a politician."
If only Carolla were a politician. Then we could order a recall and send him into the streets.
In case you missed it: Carolla last week went on a rant in which he not only insulted gay people, but laid into transgender people, whom he derided as frivolous and confusing.