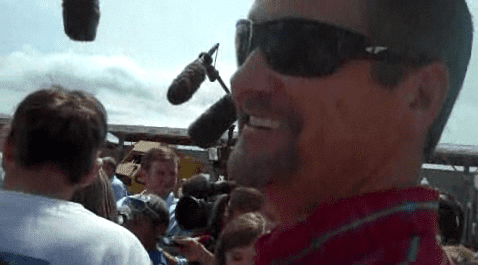 Though she has yet to say whether she'll run for president, Sarah Palin appeared at the Iowa State Fair this weekend to meet and greet Republican voters.
Also in tow? Husband Todd, who had a telling run-in with an Alaska resident who feels the Palins "sold out." And the San Francisco Chronicle captured it all on tape!
"We're from Alaska; we were sick when she quit," the woman shouted as the former governor's husband worked the crowd.
Not missing a beat, Mr. Palin asked the woman, "What would you recommend doing when you got $600,000, $700,000 of debt hanging over your head, and you still have all these people filing complaints against you? What would you do?"
The woman replied, "Well, you go for the money obviously. That's what she did. Everybody in Alaska thinks she sold out."
Mr. Palin tries to further explain himself, again saying that he and his family were suffering under debt. The woman wasn't having it: "[The debt's] not there anymore is it? You got quite the deal."
What's funny is that just before the woman approaches Mr. Palin, he tells another person to see The Undefeated, a for-profit documentary about his wife.
Watch the video, AFTER THE JUMP…