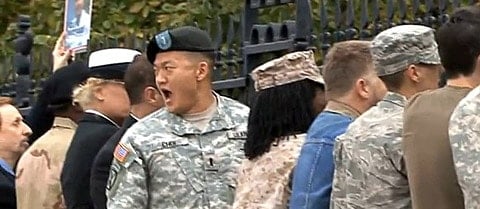 Lt. Dan Choi's trial began in federal court yesterday for protesting "Don't Ask, Don't Tell" with 12 other activists on November 14, 2010. Choi and the others chained themselves to the White House fence while chanting "I am somebody," "We do this for you" and "President Obama, Silent Homophobia." Choi faces 6 months in prison or a $5,000 fine for an obscure infraction of Parks and Wildlife federal regulations.
The 12 other activists accepted a plea deal, agreeing to a guilty plea in federal court for which they would serve no jail time if not re-arrested within four months. Choi would not accept the deal.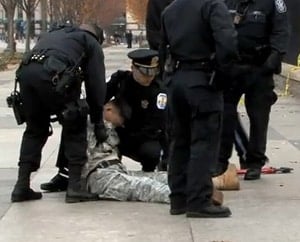 Brad Luna of Luna Media Group sent out the following on behalf of Choi's team:
Verbal orders by ranking US Park Police Lieutenant Robert LaChance cited a regulation often used to move protestors away from the White House sidewalk. LaChance and other police officers have been subpoenaed by Choi's legal team.
The defense legal plan will include a recounting of major demonstrations at the White House that won rights for many stigmatized minorities. Judge John M. Facciola remarked from the bench that the case bears resemblance to "a famous Birmingham Alabama case involving Martin Luther King" on March 18, 2010 during arraignment. The judge has also admitted video evidence of another iconic demonstration on May 1, 2011 celebrating the killing of Osama Bin Laden: a non-permitted spontaneous rally at which MSNBC news anchor Rachel Maddow was an eye witness. No demonstrators were arrested according to the evidence. Choi remarked: "Selective enforcement of regulations based on political or electoral profitability turns our honorable Park Police officers into nothing more than the armed political henchmen in third world countries. I believe a high ranking politician decided to ignore one gathering and federally prosecute another. Unlike Russia, China or Syria, free speech restrictions in America must be content neutral, regardless of who is trying to stay in power. America can be better than this: Yes We Can."
As late as Friday evening, Choi was offered a deal by prosecution but again refused. "It is crystal clear this prosecution lacks a solid case against Lt. Choi, and prefers not to be publicly embarrassed by having to justify this unlawful arrest. They prefer to impose fear tactics behind closeted doors " Feldman said.
The AP reports:
Choi's attorney Robert Feldman said Monday at the start of his trial in federal court in Washington that people arrested for protesting at the White House are usually charged in local court where the penalty for disobeying a police order is a fine of between $100 and $1,000. But Choi was charged in federal court, where he faces both a fine and jail time of up to six months.
"They want him to go away," Feldman said, suggesting that bringing more serious charges is a move to get Choi to be silent. "He is the gay man who is finally attracting the attention."
MetroWeekly has a thorough report on the trial:
After being dismissed for the day, Choi and Feldman held a news conference outlining their major arguments against the charges. First, they suggested that by bringing federal charges against Choi, the government was treating him differently from other people who have protested in front of the White House in previous years. Feldman referred to the testimony of one witness, a 22-year veteran of the Park police, who said Choi's case was the first time he had been to federal court, rather than D.C. Superior Court, to testify against a protestor he had arrested.
Choi has been arrested three other times for similar actions, most recently during an environmental protest on Aug. 20. After that arrest, as well as one in March, he was charged in D.C. Superior Court.
Watch a clip of Choi and the other activists' arrests, as documented by the Washington Blade, AFTER THE JUMP…