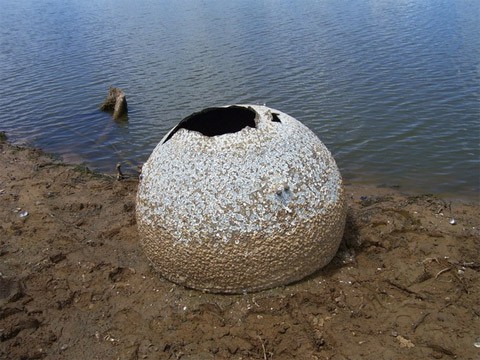 Eight years after the Space Shuttle Columbia disintegrated during reentry over Texas, a large tank has been discovered in a lake after weeks of drought lowered the water level, Space.com reports:
The tank was discovered in an exposed area of Lake Nacogdoches, in Nacogdoches, Texas, about 160 miles northeast of Houston…Nacogdoches police informed NASA of the find and sent pictures for identification. NASA engineers who work on the shuttle's power reactant storage and distribution systems were able to confirm the piece belonged to Columbia.
"One of the guys had been here more than 30 years and recognized it, and said, 'That's one of the tanks,'" Malone said.
The piece was one of 18 tanks on the shuttle that stored supercold liquid oxygen and liquid hydrogen. The spherical tank, about 40 inches (1 meter) in diameter, will eventually be shipped back to Kennedy Space Center, where NASA stores all the collected debris from Columbia in a climate controlled area in the giant Vehicle Assembly Building.
Watch a report on the finding from KTRE News in Nacogdoches, AFTER THE JUMP…