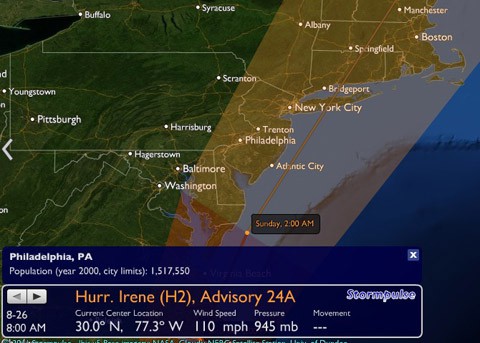 Here's a notice sent to Towleroad by the owners of the gay resort on Fire Island Pines, which at this point is directly in the path of Hurricane Irene:
It's looking increasingly likely that a storm will arrive at our shores late Saturday evening or early Sunday, and as such, we'll work hard to keep you updated on what it bodes for the island and your weekend. Below is a summary of what we know thus far, and the steps we are taking to make sure this weekend runs as smoothly and safely as possible:
The storm is expected to arrive Saturday night or Sunday morning. It is impossible to tell at this point the severity of what's ahead, but it's going to entail some nasty weather.
Suffolk County today called for a voluntary evacuation of Fire Island, largely to avoid a rush Saturday evening or Sunday morning when the storm hits (the weather tomorrow, Friday, is actually expected to be beautiful).
The Suffolk County executive says he will decide as early as tomorrow morning whether to call for a mandatory evacuation after reviewing the hurricane's path overnight.
If there is a mandatory evacuation called, police will announce it on the streets throughout the community and provide further instructions. We strongly urge you to take these instructions seriously. It's a good idea to pack a bag with your belongings tonight in case of a mandatory evacuation tomorrow or Saturday.
Barring a mandatory evacuation order, we plan to keep Canteen and High and Low Tea open tomorrow to serve the people who are on the island. As of now, Sherry Vine remains scheduled to make her 2011 debut at the Blue Whale Friday night at 10pm.
We will make decisions about the rest of the weekend as we learn more about the storm, but we have already cancelled all entertainment Saturday and Sunday.
Assuming we close Saturday and/or Sunday, we will re-open for business Monday morning. We hope this hurricane peters out over the next few days as it heads up the east coast, but we need to exercise caution. Your safety is crucial, so please stay close to news reports. We will be emailing you updates as we have them. Sincerely, Andrew and Seth
UPDATE: "Suffolk County has called for a mandatory evacuation of Fire Island to begin at 3pm today. The last ferry out of the Pines will leave in the early afternoon tomorrow, Saturday. We are closing all our businesses after tonight's Low Tea, which is open from 5pm – 9:30pm."