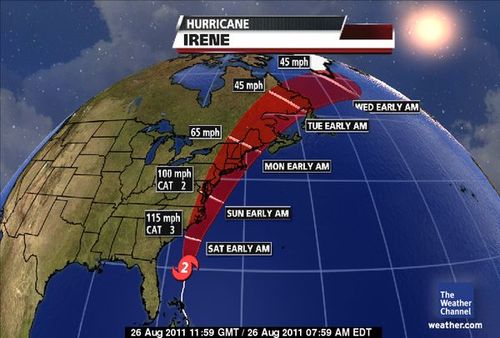 The projected path of Hurricane Irene has not changed much over the last 12 hours. And the East Coast should begin feeling it when it skirts the outer banks of North Carolina early Saturday, according to reports:
Hurricane Irene is a high end category 2 hurricane on the Saffir-Simpson Hurricane Wind Scale; however, Irene is expected to re-strengthen into a category 3 storm. As of 5 a.m. Eastern Time Friday, the center of Hurricane Irene is located about 375 miles south-southwest of Cape Hatteras, North Carolina, has winds near 110 miles per hour, and was moving to the north at 14 miles per hour. Some of the outer rain bands from Irene will brush FL, GA, and SC coasts Friday into Friday night.
Mandatory evacuations have been ordered all along the Carolina coast.
As far as NYC goes:
Evacuations were already beginning Friday morning in spots across New York. Mayor Michael Bloomberg ordered five hospitals as well as homes for the aged and nursing homes in the low-lying areas of the city to evacuate their patients to higher ground by 8 p.m. Friday. City shelters are to open at 4 p.m. on Friday.
The mayor is expected to determine by 8 a.m. in Saturday whether to order a broader public evacuation of the city. There were mandatory evacuations for all nonresidents for parts of the Jersey shore.
Take precaution if you live anywhere in the red cone in the image above.