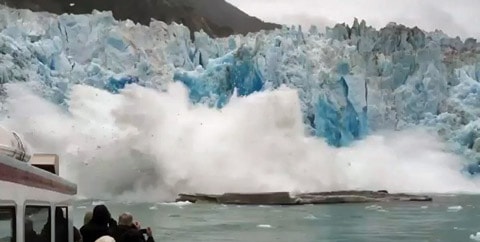 Global warming up too close.
The videographer writes: "While viewing the glacier in Tracy Arm Fjord in Alaska, a 200 foot tall piece of ice collapsed and sent chucks of flying ice and a huge wave that rocked the boat. A woman was injured and broke her leg."
KTUU confirms: "A 60-year-old woman suffered a compound fracture of her right leg Thursday after the glacier tour boat she was aboard in Tracy Arm was hit by ice chunks and a wave from a nearby calving glacier, according to the U.S. Coast Guard."
Watch, AFTER THE JUMP…