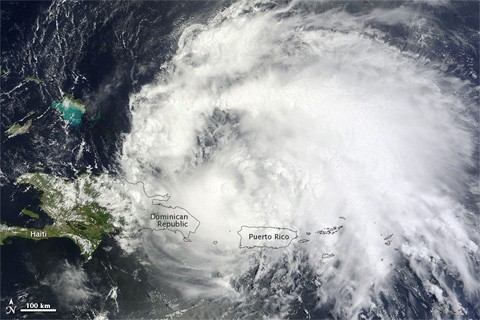 Hurricane Irene, as seen by NASA satellites yesterday (above) will impact the Turks and Caicos today and develop into a major hurricane before taking aim at the East Coast of the United States later this week.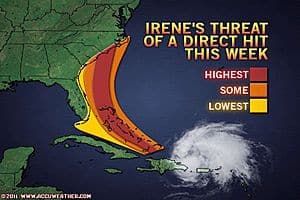 It's unclear when the storm will turn north, a moment crucial to forecasting its landfall, the AP reports:
Many of the center's computer models had the storm veering northward away from Florida's east coast toward Georgia and the Carolinas. A hurricane center forecast map said the storm's center could come ashore in one of the states on Saturday or Sunday, but forecasters said much was still unclear.
"In terms of where it's going to go, there is still a pretty high level of uncertainty," said Wallace Hogsett, a National Hurricane Center meteorologist. "It's a very difficult forecast in terms of when it's going to turn northward."
One key reason for that, he said, is the difficulty of measuring how Irene will be affected by the high terrain of the island of Hispaniola, which is shared by Haiti and the Dominican.
The L.A. Times reports on expectations for New York:
"All of the ingredients are conducive for Irene to intensify over the next few days," according to a hurricane center forecast analysis prepared by Lixion Avila, a senior hurricane specialist at the center. The computer models "insist on making Irene a large and strong hurricane."
There is a chance Irene may pass over Long Island next week as a strong tropical storm, said Masters, who began his career flying on National Oceanic and Atmospheric Administration hurricane reconnaissance planes. One such plane investigated Irene late yesterday and that mission should improve computer model error rate by 20 percent.
It probably would be a "heavy rain event," not a hurricane, if it reaches New York, he said.