Simpsons star Yeardley Smith (who voices Lisa) says Lady Gaga will appear as herself on an upcoming episode: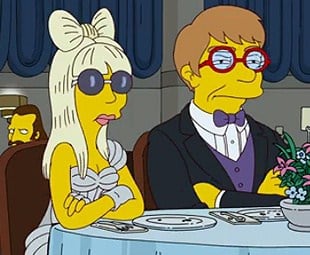 "This is extraordinary! I'm stunned that she has time in her schedule that she's coming to our studio to record," Smith said. Previewing Gaga's storyline, the actress said, "She's playing herself, and [The Simpsons writers] describe her as the happiest, most optimistic person in the world. She comes to Springfield to try to cheer up Lisa, but she can't."
Lady Gaga's appearance will air during the animated hit's upcoming 23rd season. In a previous episode, an animated version of the "Bad Romance" singer (not voiced by Gaga) appeared on the show as Tony winner Elton John's date to the Golden Globe Awards.
EW has a photo of Gaga in the Simpsons' recording studio:
The Simpsons producers say they were impressed by her voice-acting range and ad-libbing skills, and are proud to include her in their storied guest ranks. "Since the very beginning, I've always wanted to have on the most iconic personalities of our time, and she's it," declares series creator Matt Groening. As for the challenge of properly animating such a colorful character, he deadpans, "It's very hard to top reality with her, but I'm sure we'll come up with something that is going to be as improbable as her usual wardrobe."
UK indie band Wild Beasts has taken the twang out of Gaga's single "Yoü and I" (watch the original video here) with an atmospheric remix that will appear on a forthcoming remix EP release:
Of the surprise pairing, Wild Beasts' Hayden Thorpe told the Guardian: "The unlikeness of this match was perhaps what compelled us to take it on. Gaga in many ways is the epitome of what we are not. She is the butcher to our butter knife. The essential thrill is always to keep eluding what is expected of us and what we expect of ourselves."
Listen to the Wild Beasts remix of "Yoü and I" which is pretty much an entirely different track, AFTER THE JUMP…
And watch for Norman Brannon's music update later today!