Back in February 2010, I posted about Miami Beach police harassing and arresting a gay man after he witnessed them abusing a suspect. The gay man, Harold Strickland (pictured), was on the phone with 911 reporting their assault when the cops came after him. The ACLU filed suit against the Miami Beach police last November.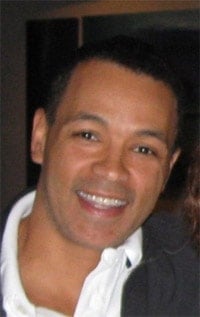 In late July, the two officers involved were fired and in early August, the ACLU settled its case with the City of Miami Beach.
Now, the two officers want their jobs back, the Miami Herald reports:
Frankly Forte and Eliut Hazzi filed grievances last week with the city, demanding they be reinstated with back pay. "The investigation was unfair and tainted with bias from the outset," both men wrote in city documents filed Aug. 17-18.
The officers take issue with the victim's account:
Sgt. Alejandro Bello, president of the city's police union, said Strickland's story of what happened that night is full of holes. He said Mendoza's mug shot shows that he had no injuries to his face. He also questioned Strickland's story that he wanted to see his old home and Mendoza's statements that he was searching for his dog's missing collar after a quick walk. Bello also said Miami Beach politicians influenced the officers' firings and noted that both Strickland and Mendoza have been arrested near Flamingo Park in the past and accused of involvement in illegal sex acts.
Ex-Beach cops accused in 2009 beating seek jobs back [miami herald]