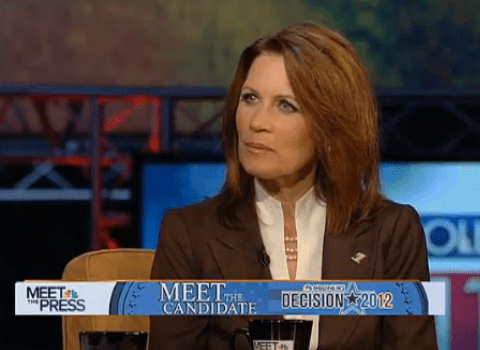 Michele Bachmann has become quite tenacious in her refusal to answer
"frivolous"
questions about LGBT politics.
The Republican presidential candidate, for example, stonewalled an Iowa news station for broaching the subject, and dodged inquiries about husband Marcus' anti-gay clinics at the National Press Club.
Well, now that she's making the post-Ames Straw Poll press rounds, Bachmann's still playing hard to get.
Bachmann appeared today on NBC's Meet the Press, where host David Gregory asked her to reply to her infamous 2004 comment that "gay" is "part of Satan." Bachmann truly didn't want to engage, and remarked, "Well, i'm running for the presidency of the united states; i'm not running to be anyone's judge."
She went on to claim, without a bit of irony, "I ascribe honor and dignity to every person, no matter what their background." Gregory wondered whether her past statements really do qualify as "dignity," to which Bachmann replied, again, "I am not anyone's judge… I'm running for the presidency."
Bachmann also told Gregory that she would have no problem inviting an openly LGBT person into her cabinet: "I would look, first of all, will they uphold the Constitution of the United States? And, number two, are they competent to do what they need to do? And are they the best at who they are? That's my criteria, nothing more."
Gregory ended the segment by wondering, since Bachmann believes marriage should only be between a man and a woman, whether same-sex parents and their children qualify as a "family." She tried to avoid answering by saying, "All these kinds of questions aren't about what people are concerned about right now."
Considering that the U.S. Census shows a marked rise in the number of families headed by same-sex couples, I'd venture to guess plenty of people are interested in her view.
Meanwhile, over at CNN, Bachmann told Candy Crowley she would consider reinstating Don't Ask, Don't Tell: "The 'don't ask, don't tell' policy has worked very well. I would be in consultation with our commanders but yes, I probably will [reinstate the policy]."
Watch video of Bachmann and Gregory's exchange, AFTER THE JUMP…