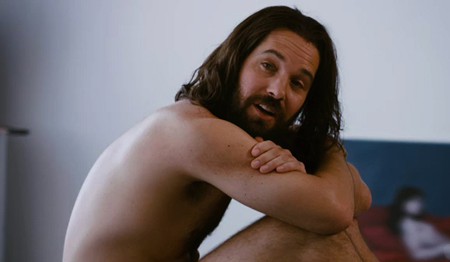 The sisters are basically the film's chorus with their idiot brother as star soloist. Ned's guileless actions and constant truth-telling get him into numerous awkward situations but wreak utter havoc with the personal and romantic lives of virtually everyone around him.
You can practically hear his exasperated sisters curse/singing:
He'd outpester any pest
Drive a hornet from its nest
He could throw a whirling dervish out of whirl
He is gentle! He is wild!
He's a riddle! He's a child!
He's a headache! He's an angel!
He's a girl!
It comes out less musical than that and more whiny… "Our idiot brother ruined my life!" (The irony of the sisters protestations is that he's good for them.)
Where is this Sound of Music analogy going? It's getting away from me it is though it springs from a real place!  The 40 Year Old Virgin, another Paul Rudd movie that revolved around an improbably innocent middle-aged man, achieved perfect lift-off with a goofy surreal rendition of "Age of Aquarius" from another 60s musical. Our Idiot Brother has no such song and dance. Ned's headspace may be cloudy but the movie remains frustratingly earth-bound. It has its solid share of funny bits, thanks largely to the talented cast, but very few riotous laugh lines. One keeps wishing Our Idiot Brother would find a nice grassy mountain top from which to spin itself into a comic frenzy and take off soaring; the movie hums along pleasantly but never truly sings.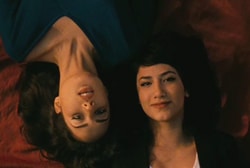 ALSO OPENING: Oscar nominated Vera Farmiga (Up in the Air), directs and stars in HIGHER GROUND, a compelling look at a Christian woman's struggle with her faith. Broadway fans take note that she's filled her cast with award winning stage veterans including: the sensational Dagmara Dominczyk (who happens to be Mrs. Patrick Wilson in real life, lucky girl) as her sensually-minded best friend, Donna Murphy as her mother, and Norbert Leo Butz and Bill Irwin as preachers.
This week's To See List for gay moviegoers should include CIRCUMSTANCE, the acclaimed Iranian film about two teenage girls whose love affair is a dangerous thing in Tehran. Here in the States we often get such a distorted picture of the breadth of life experiences in the Middle East. Circumstance joins a welcome list of controversial films that train their eyes on contemporary Iranian life and gender politics (some with gay content as well since sexism and homophobia are such kindred prejudices). If you like Circumstance, I'd recommend seeking out these films if you can find them: The Circle (2000), Dog Sweat (2010) and the animated Oscar nominee Persepolis (2007). They're eye-opening.
And still more options as summer movie season wraps up: Zoe Saldana seeks sweet revenge (and bankability) in the action drama COLOMBIANA, and producer Guillermo Del Toro (of Pan's Labyrinth fame) offers up the new horror film DON'T BE AFRAID OF THE DARK.