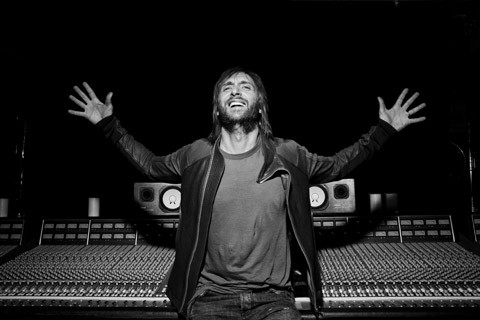 Norman Brannon is a pop critic, musician, and author based in New York City. He presents a weekly music update here on Towleroad and writes regularly at Nervous Acid.  
Follow Norman on Twitter at @nervousacid.
EXTENDED PLAY:
David Guetta Nothing But The Beat (Capitol)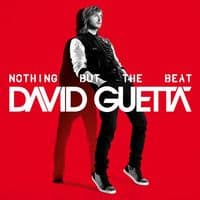 David Guetta's third album, Pop Life, was hardly a fully realized work, but his intention was clear. In 2007, when it was released, European club music had been desegregated from overseas Top 40 pop for years — but more often than not, this crossover was a matter of fact and not a concerted effort. Guetta was one of the first to put that extra effort in — beginning by hiring legendary pop songwriter Cathy Dennis to work on the record with him — and despite its failures, Pop Life was Guetta's first semi-hit album. It also arguably paved the way for Lady Gaga's The Fame only one year later, which cracked open the American market for this style, and in turn, paved the way for Guetta's truly massive One Love in 2009. (If you really want to complete the circle, listen to "Born This Way" again and see if you don't hear the similarities to "When Love Takes Over.") This week, Guetta returns with Nothing But The Beat — the first new album since his mainstream breakthrough — and it's nothing if not contemporary. This is, however, a blessing and a curse: In a landscape where "Guetta-beat" is being produced by dozens of like-minded studio hacks, the struggle for Guetta to retain his voice is often foiled by his propensity for nabbing scene-stealing guest stars. The album's first two singles — "Where Them Girls At," featuring Nicki Minaj and Flo-Rida, and "Little Bad Girl," featuring Taio Cruz and Ludacris — are archetypes of the old Guetta-beat, and with his trance-based structural dynamics having been appropriated by everyone from Dr. Luke to Stargate, neither song really stands out from any number of singles on the radio right now. The same can't be said, however, for standouts like the Usher–led "Without You" — a sort of arpeggiated progressive-house cousin to Stardust's "Music Sounds Better With You" — and the fact that this will be the third track sent to radio is a signal that Guetta is already thinking ahead. Because when the current commercial dance boom subsides, as all pop micro-trends do, it will always be the actual song under the synths that matters most.
Also out this week: Beirut — The Rip Tide (Pompeii), Red Hot Chili Peppers — I'm With You (Warner Bros.), Jill Scott — The Original Jill Scott From The Vault Vol. 1 (Hidden Beach), Cobra Starship — Night Shades (Decaydence/Fueled By Ramen), Male Bonding — Endless Now (Sub Pop)
THE DISPATCH: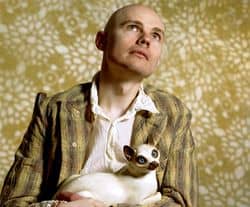 Smashing Pumpkins leader Billy Corgan took some flack from fans for granting an exclusive regular column to Crestfallen — a fan site run by a Mormon adherent who openly supported California's Proposition 8. But things got more heated after Devi Ever, a guitar-pedal engineer and transgender woman who spent money developing a custom bass pedal at Corgan's request and was then ignored, aired her grievances towards the singer on the Internet: Corgan responded with a series of verbal threats (claiming he would "knock [her] f*cking lights out") and transphobic slights (calling her a "he/she" and "a sad creation"). Corgan has since deleted the offending tweets, but unfortunately for his bigoted temper, the Internet is forever.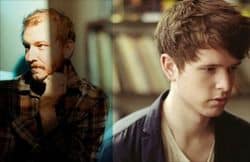 Last week's self-started rumor of a Bon Iver and James Blake collaboration came to fruition as promised: "Fall Creek Boys Choir" is one of the most elegant songs to come from either camp, and it's available on iTunes this week.

 We're still waiting on a new album from Phoenix, but if the band is delayed, it's understandable: Frontman Thomas Mars married filmmaker Sofia Coppola in Italy over the weekend.

 This week's essential streams and downloads: Starsmith released his version of the latest Marina and the Diamonds single, "Radioactive," and then somewhat mysteriously took it down from his Soundcloud page a few days later. Luckily, Hype Machine still has the stream. The debut album by Wild Flag — featuring members of Sleater-Kinney, Helium, and The Minders — is up at NPR now. And let's not forget Penguin Prison: A self-titled debut is due next week and the latest retromodern track to leak is called "Don't F*ck With My Money."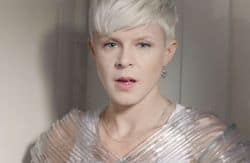 Robyn's Body Talk trilogy was an ambitious undertaking in dozens of ways, but one of the less examined aspects of the project has been its bold and innovative visual identity — from the album artwork and videos to her concert styling and online interactive campaigns. The Creator's Project took all this into account and put Robyn in a room with the album's creative director, Mary Fagot, for an enlightening video interview on the subject.

 David Bowie's "Space Oddity" is now a gorgeously illustrated children's book.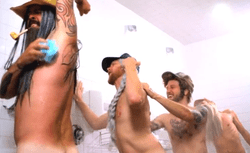 Foo Fighters are going on tour this fall, and to let you know about it, they did what any other self-respecting rock band would do: They filmed a teaser video, completely in the nude, showering together. Needless to say, it's NSFW — especially the close-up shots of each member's rear end. No lie.

 The forthcoming second album by Baltimore-based hip hop crew Spank Rock will be called Everything is Boring and Everyone is a F*cking Liar, and our first taste is a track called "Nasty" — featuring an outrageous coda from New Orleans sissy bounce ambassador Big Freedia, who has spent this year quickly shattering the limits of acclaim and mainstream acceptance for queer rappers. The album, due September 27, also features work from Santigold and hip hop megastar Pharrell Williams.
SOUND & VISION:
Leona Lewis & Avicii — "Collide"
The nasty lawsuits are behind them, so the first video from Leona Lewis' upcoming third album has earned its official release. I'm personally a bit torn about the track, and the video — which positions Lewis as more of a summer babe than a smart chanteuse — doesn't seem to reconcile anything for me. I will say this: The original Penguin Café Orchestra composition that Avicii used as the basis for this much-contested track totally outshines its revision.
Bombay Bicycle Club — "Shuffle"
A Different Kind of Fix is Bombay Bicycle Club's highly guarded third album — which means I can't give it a fair assessment until its release next week — but if it's anything like its lead single, the London–based band may have a proper hit on their hands: "Shuffle" is the missing link between their scrappy post-punk debut and their leftfield follow-up of whispery folk confessionals, held together by a newfound sense of rhythm and joy.
Florence & The Machine — "What the Water Gave Me"
Florence Welch promised that her band's new songs were "drawn to dark metaphors," and "What The Water Gave Me" — the first single from Florence & The Machine's as-yet-untitled second album — delivers in spades: "When I was writing this song I was thinking a lot about all those people who have lost their lives in vain attempts to save their loved ones from drowning," she says, suggesting that her warning was an understatement.
Emeli Sandé — "Heaven"
The debut single from Scottish singer Emeli Sandé went to #2 on the UK charts this week, and with good reason. "Heaven" is one of those pleasurable, but slightly edgy pop singles that breed both familiarity and discovery: Recent tracks by Katy B and classic album cuts from Massive Attack certainly inform the music — a sort of trip-hop/drum-n-bass hybrid — but Sandé's capable voice is clearly what makes this song memorable in long run. It's a great way to start a career.