Janet Mock: Don Lemon missing "sensitivity chip" with regard to trans people? Clip.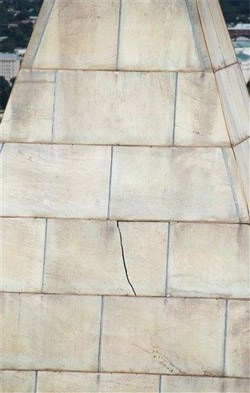 More cracks found in Washington Monument.

VIDEO: Michael Fassbender drag scene cut from X-Men.

NPR on Dominionism and Rick Perry: "An emerging Christian movement that seeks to take dominion over politics, business and culture in preparation for the end times and the return of Jesus, is becoming more of a presence in American politics. The leaders are considered apostles and prophets, gifted by God for this role."

Dick Cheney says his book will have "heads exploding" in D.C.

Leonardo Dicaprio and Tobey Maguire tool around in vintage car on set of The Great Gatsby.

1978 murder cold case of gay Utah man reopened: "Tony Adams was the campaign manager for the Socialist Party in Utah and a gay-rights activist when he was stabbed to death in his Salt Lake City apartment. His murder was never solved and was just one of several violent murders of outspoken gay people in Utah during a short period of time."

Lady Gaga leapfrogs Oprah Winfrey in Forbes' Most Powerful Women list.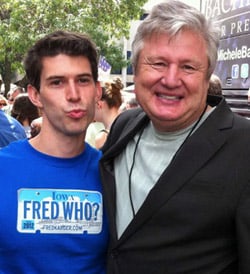 Which one of these men is gay?
Study shows elephants capable of insight.

Jesse Tyler Ferguson and Justin Mikita vacation in Maui.

Norman Rockwell White House painting sends rare message on race. "His choice of the Rockwell painting was a more private statement. Obama has never mentioned it in a speech or public event. And while White House aides confirmed that Obama approved bringing it to the West Wing, they declined to discuss how the decision was made or why.

VIDEO: First footage of The Hunger Games released.

Brooklyn Assemblyman Dov Hikind may suspend his party allegiance over his hatred for same-sex marriage: "David Weprin, Hikind's fellow Assembly Democrat, supports the right of gay couples to marry, and that's a main reason he lost Hikind's support for the Sept. 13 special election."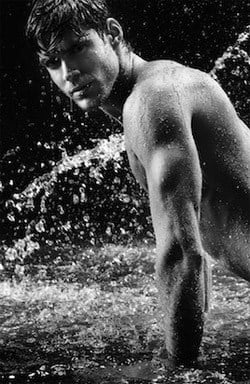 Francois Rousseau is all wet (some images not sfw)

Binational couples await relief under Obama policy change.

Tabloid alleges Russell Armstrong, the Housewives of Beverly Hills husband who recently took his own life, did so in part because he was going to be outed.

The Strange History of Don't Ask, Don't Tell: HBO documentary on military gay ban to premiere on repeal date in September.

Who knew the white Michael Vick looked like Brian Austin Green?

Gay Elle writer Seth Plattner makes out with girls for attention: "Although my motivations may have been convoluted, in a weird way canoodling with women kept me alive to the fact that it's foolish to shut down my sexual self in the company of the opposite sex. It can be useful, even at work. Don't get me wrong; I'm not trying to kiss my way to the top. It's more subtle than that. I work at a fashion magazine, where women are my bosses, colleagues, friends. And with all of them, I'm aware that my masculinity, my attractive guyness, is part of what I offer. Obviously, my professional skills are more important, but if a coworker or superior thinks I'm cute or captivating in some way, great! That gravitational pull is mine to leverage as I can."