A grisly story from Murmansk, a city in the arctic portion of northwest Russia close to the borders of Norway and Finland.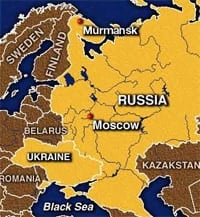 Officials held a press conference Monday on a 21-year-old man arrested for the murder of a man he subsequently ate, RIA Novosti reports:
Investigators believe the main motive for the crime was a desire to eat human flesh, as "the defendant wanted to try eating at least 10 people in the future." Investigators believe the killer became acquainted with his victim via the internet, and lured him in sexually. "According to preliminary information, one of them was seeking a sexual partner. The accused explained later that such people are not open, and they prefer to hide their contacts", Murmansk Investigation Committee chief Fyodor Bludenov said.
Murmansk cannibal lured stranger to death [ria novosti]