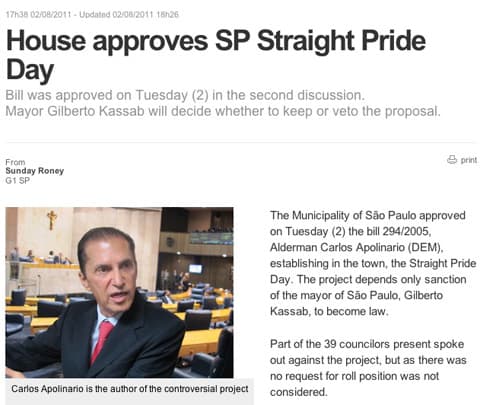 In late June, the Washington Post reported that evangelical leaders in São Paulo were pushing a "Heterosexual Pride Day" after being unable to rid the city of its Gay Pride parade.
Evangelical leaders have suggested the country celebrate a "Heterosexual Pride" day, or "Orgulho Hetero" in Portuguese, by putting the idea up for a vote in the City Council. Carlos Apolinário, the representative spearheading the idea, has previously tried to get the gay pride parade off of Sao Paulo's well-known Paulista Avenue. If passed, Orgulho Hetero would be celebrated every third Sunday of December.
Yesterday, the City Council approved the proposal, despite the objections of several council members.
Loose translation from Google is HERE.
All the proposal needs now, according to the report, is for the mayor of São Paulo, Gilberto Kassab, to sign it.
UPDATE
More from the AP:
The legislation's author, Carlos Apolinario, said the idea for a Heterosexual Pride Day is "not anti-gay but a protest against the privileges the gay community enjoys."
As an example, he mentioned how Sao Paulo's huge gay pride day parade is held every year on Paulista Avenue, one of the main thoroughfares in this city of 20 million people, while the March for Jesus organized by evangelical groups is not allowed on the same avenue.
"I respect gays and I am against any kind of aggression made against them," Apolinario said. "I have no trouble coexisting with gays as long as their behavior is normal."