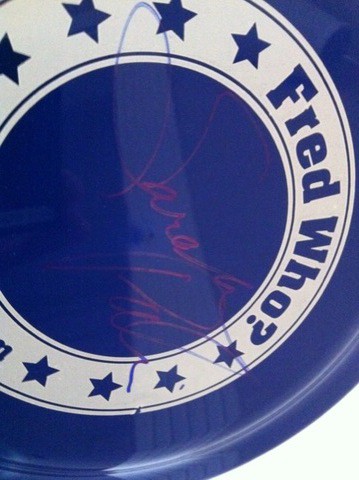 Like almost all of the Republican presidential candidates, and some
potential candidates
, Fred Karger spent his weekend in Iowa.
In addition to capturing footage of Marcus Bachmann denying his "gay barbarian" remarks, the openly gay politico told a modest crowd of supporters in Des Moines that the GOP needs to start including gay people — "If you are concerned about growing the party, we need to welcome people in," he said — and had a brief encounter with Sarah Palin, who signed one of his campaign's "Fred Who?" frisbees.
Said the candidate to On Top Magazine: "I ran into Sarah Palin on the midway; handed her a 'Fred Frisbee,' told her I was running, she wished me good luck and with her sharpie in hand autographed the Frisbee."
Do you think Palin really has his back in this race? More importantly, do you think Palin has anyone's back in this race, or is she just biding her time?