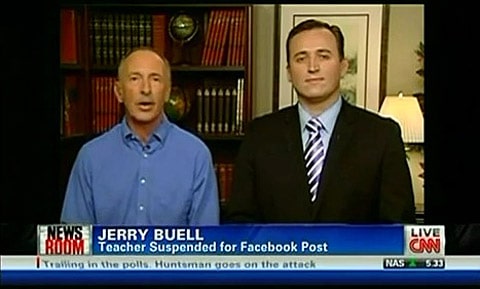 Jerry Buell, a Florida teacher suspended for making anti-gay Facebook comments about same-sex marriage, will return to the classroom after his suspension was lifted, following a week of publicity in which he was backed by anti-gay legal group Liberty Counsel, as well as the ACLU.
Superintendent Susan Moxley decided that Jerry Buell did not violate the board's code of conduct. He will return to the classroom on Thursday…Moxley said she has issued Buell a list of directives, which will become public record in 10 days, to follow.
Buell said the decision is a victory for First Amendment rights, but the school district still maintains there are limits on what a teacher can say in their private lives if it impacts the classroom. Buell said he has no regrets about what happened. He said he always cautions students about what they post on social media sites, but he also encourages people to speak their opinions strongly without fear of repercussions. He plans to use his experience as a teaching tool.
On Facebook, Buell had written that he "almost threw up" in response to a news story about same-sex marriage in New York. Buell also called the marriages part of a "cesspool" and said they were a sin.
Given his comments, Buell has become something of a hero to the Christian right. He's set to appear at a rally tonight sponsored by the Liberty Counsel, at First Baptist Church of Leesburg.
"I don't want somebody to come in and put duct tape on the mouth of a Christian man or woman or student just because they believe in the Bible," Brooks Braswell, pastor of First Baptist Church of Umatilla, told board members.
At tonight's event, Buell probably will speak in general about the Facebook issue for about three minutes, Mihet said. The rally, scheduled from 7 to 9 p.m., also will include an appearance by U.S. Rep. Dan Webster, R-Winter Garden.