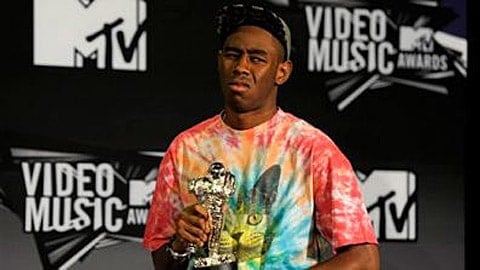 Last night, MTV awarded its 'Best New Artist' award to 20-year-old rapper Tyler the Creator.
GLAAD wants to make sure people know his background:
Much of the public was first introduced to Tyler the Creator during last night's MTV Video Music Awards, after the  young rapper won an award for Best New Artist and danced onstage with Will Ferrell, Jack Black, and Seth Rogen.  What many of them will unfortunately learn if they now decide to pick up a copy of his album is that he also writes some of the most violently anti-gay and misogynistic music currently enjoying mainstream recognition.
NME reported, last June, that Tyler's album Goblin uses the word "faggot" 213 and its variants times.
It provoked Sara Quin of indie duo Tegan and Sara – pictured – to post a blog calling him out. She wrote: "While an artist who can barely get a sentence fragment out without using homophobic slurs is celebrated on the cover of every magazine, blog and newspaper, I'm disheartened that any self-respecting human being could stand in support with a message so vile."
Tyler responded to the singer by tweeting: "If Tegan and Sara need some hard dick, hit me up!"
Tyler told NME: "I'm not homophobic. I just think 'faggot' hits and hurts people. It hits. And 'gay' just means you're stupid. I don't know, we don't think about it, we're just kids. We don't think about that shit. But I don't hate gay people. I don't want anyone to think I'm homophobic."
Tyler also told MTV News, in response to the controversy: "Well, I have gay fans and they don't really take it offensive, so I don't know. If it offends you, it offends you…If you call me a n—a, I really don't care, but that's just me, personally. Some people might take it the other way; I personally don't give a sh–."
UPDATE from GLAAD: "GLAAD's own internal review has found 10 occurrences of the exact word "fa**ot" in the album Goblin."
Last night's VMAs were the single most-watched telecast in MTV's history, with 12.4 million viewers.
Tyler the Creator's track "Yonkers" which won him Best New Artist, AFTER THE JUMP…