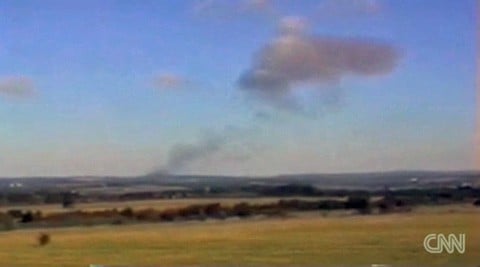 New video was released over the weekend shot and narrated by a now-deceased witness just outside of Shanksville, Pennsylvania where Flight 93 crashed, killing all aboard.
Mediaite writes: "The short clip features the anonymous videographer's narration of the events that occurred before he turned on his camera. According to Hendricks, the tape is believed to be the first to show the immediate aftermath of the United Airlines Flight 93 crash, the fourth plane to go down on 9/11 after passengers fought back against the hijackers, preventing them from crashing it into their likely targets, the US Capitol or the White House."
Watch the clip, AFTER THE JUMP…
The Flight 93 crash site has become a pilgrimage for hundreds each day. The memorial that will one day commemorate the victims and heroes of the crash is unfinished. It will be partially open on the 9/11 anniversary.