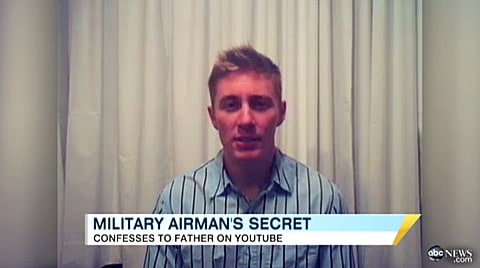 Randy Phillips, the airman (I've been referring to him as soldier while he remained anonymous) whose coming out video to his father went viral yesterday, spoke briefly with ABC News about coming out, and says his whole family now knows he's gay.
Said Phillips: "It feels great. it's nice not having to look over your shoulder or worry about who you are talking to, Phillips told ABC News the day after "Don't Ask, Don't Tell". I think everybody knows. I never thought I'd be so comfortable with it. It's very supportive. Everybody's been absolutely great."
ABC News adds: "As for Phillips' father, he told ABC News that he was not exactly thrilled that his son put the clip on YouTube — but reiterated once again that he loves his son, and always will."
Watch, AFTER THE JUMP…