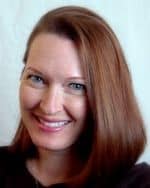 Stacy Trasancos is a scientist-turned-Catholic-homemaker in Massachusetts with seven kids who suffers from agorahomophobia. In a wrenching blog post, she describes how the gruesome spectacle of gay families hanging out at a local public pool has made her afraid to venture outdoors:
I find myself unable to even leave the house anymore without worrying about what in tarnation we are going to encounter. We are responsible citizens. We live by the rules, we pay our taxes, we take care of our things. I'm supposed to be able to influence what goes on in my community, and as a voter I do exercise that right. But I'm outnumbered. I can't even go to normal places without having to sit silently and tolerate immorality. We all know what would happen if I asked two men or two women to stop displaying, right in front of me and my children, that they live in sodomy.
And what sort of unspeakable PDA has she witnessed at the poolside? I'll tell you. One gay couple was engaged in inappropriate "elbow-rubbing." Another lesbian couple was hugging in a way that was "clearly not friendly." My god!
Her post has gone viral, and a few commenters have been leaving death threats. That's completely reprehensible, and I don't begrudge her notifying the FBI. But please, Stacy, listen: we gay people are not zombies or body-snatchers. The couples you've seen at the pool are, by all appearances, "responsible citizens" who "live by the rules," "pay their taxes," and "take care of their things." If you got to know any of them, you'd probably find that they're much like you – heck, you might even make friends.
But if you really can't overcome your fear of being mobbed by gay people the moment you step out of your house, might I suggest one of these: The Genesis Pre-fabricated Steel Shelter System. You'll find that there is no better customizable "living pod" on the market:
While each risk situation is unique and requires a methodical threat assessment tailored to the client's needs, Hardened Structures' experience across the spectrum of threats has enabled us to design a modular, configurable system that enables survivability in even the most demanding scenarious. Called the Genesis Series, this underground shelter system provides protection against a wide range of disasters including 2012 scenarios. For protecting your family or family group, the Genesis Series is unmatched in the industry.