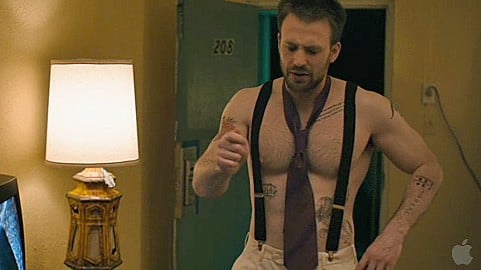 Now that he's Captain America, Chris Evans has apparently thrown out his silly ban on gratuitous shirtlessness,as evidenced by his lawyer wardrobe in Puncture.
Yet he still thinks he needs a butt double. Says Evans of his role in What's Your Number with Anna Faris:
"My butt double is my roommate in Boston! He's a kid I grew up with. Anna said she got a butt double for the bay scene. My buddy Zach was like, 'Who's going to be your butt double?' and I said, 'I don't know. Do you want the gig?' I brought him down, he met the director, did a little spin around and boom — he's in the movie! He's got a great ass."
That is all.
Watch the trailer for Puncture, AFTER THE JUMP…