Dan Choi's trial yesterday was halted for a 10-day delay yesterday after U.S. Magistrate Judge John Facciola said he would allow Choi's lawyers to argue that the government singled Choi out for "vindictive prosecution." The government will now ask a higher court to quash that order.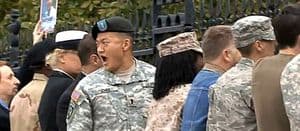 MetroWeekly has been following the case closely:
Facciola said this morning that he had found there was prima facie evidence for "vindictive prosecution," meaning enough evidence was presented to allow Choi's lawyers to pursue such a claim. As a result, Choi's lawyers would be able to ask for more documents and evidence from the government in order to investigate if higher-level officials advised their subordinates to try Choi in federal court rather than D.C. court and, if so, why.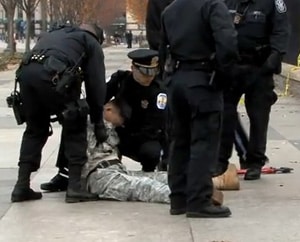 Some additional fascinating coverage by John Riley here:
Under oath, Beck testified that immediately prior to Choi's March 2010 arrest, he had instructed Choi and former Capt. James Pietrangelo to leave the White House sidewalk. Under cross-examination by Assistant U.S. Attorney Angela George, Beck said he believes the ledge on which the White House fence rests — and where the two men were standing — can be considered part of the sidewalk. He also said that since the men were not moving when they chained themselves to the fence, they were violating the regulation that allows protesters to demonstrate in front of the White House as long as they keep moving.
However, Beck also said he had spoken with someone from the D.C. Attorney General's Office who had told him the Attorney General did not consider the fence ledge to be part of the White House sidewalk. In July 2010, the D.C. Attorney General's Office dismissed charges against Choi and Pietrangelo for that reason.
When Beck was on the stand, he said he refrains from using "slanderous" terms such as "gay" or "homosexual," a statement that Choi's lawyers jumped on as soon as the court dismissed for a short mid-morning break.
"I believe that because Lt. Dan Choi is a homosexual war veteran dressed in full military regalia, he was unfortunately selected or singled out to be arrested and prosecuted," lead defense attorney Robert Feldman told reporters at the break. "To this day, the prosecution had to be literally forced to notice Lt. Choi and Capt. Pietrangelo's rank. Today, Capt. Phil Beck refused to acknowledge their rank. This fact, with his revelation that he believes 'gay' and 'homosexual' to be slanderous terms, shows, in my view, that this public servant is a homophobe, and, in my view, the record bears this out."
Choi lawyer Norman Kent offered a take to MW following what went down: "The government is throwing a fourth quarter 'Hail Mary' pass that God is going to knock down," Kent said. "It's the most remarkable act of desperation that I've ever seen in 35 years of practice."