The Department of Justice has asked a federal court to dismiss a lawsuit seeking equal severance pay for members of the military discharged for being gay, the AP reports: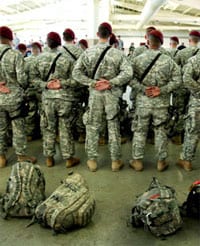 The American Civil Liberties Union is seeking class action status for 142 people who only got half pay after their discharge because of being gay. But the Justice Department asked the U.S. Court of Federal Claims to dismiss the case. Judge Christine Odell Cook Miller said she probably will let the case continue and questioned why the government wouldn't pay now that the law has changed.
"Your timing is exquisite — two days after the policy goes into effect eliminating 'don't ask, don't tell,' here we are," she said as she took the bench. "I would consider this to be an unenviable argument to have at this time," she told the government's attorney later.
Attorneys for the ACLU are baffled by the government's action:
Joshua Block, attorney with the ACLU lesbian gay bisexual and transgender project, said class action would cover 142 people who got half pay for being discharged for homosexuality in the past six years — the time period covered by the statute of limitations — for a total payment of $2.1 million. Miller, first appointed by President Ronald Reagan and reappointed by President Bill Clinton, questioned why for that amount of money the government would want to wade back into the "don't ask, don't tell" debate.