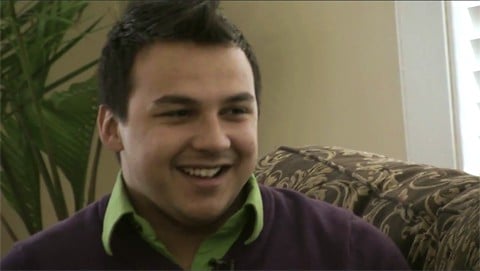 After coming out in high school, Gabriel found classmates and even the football players telling him how awesome he was. Other aspects of his life, however, were much less accepting.
"God was a huge, huge influence on my life. He still is. And that's one of the reasons why I couldn't come to terms with who I was, and it took so long because I felt like a horrible person."
Guilt from his mother, who is a minister, and fear of God forced Gabriel back in the closet. Somewhat ironically, it was Gabriel's praying and evolved belief in what God wants that led him back out of the closet and to his own personal acceptance.
"I feel that all the nights I spent crying and really begging and pleading for God to take these feelings I have for men away…He didn't. And I don't believe God can sit up there and see this young boy crying and in so much pain and not do something about it. So I feel like God accepts me for who I am."
Watch, AFTER THE JUMP…

***
Nathan Manske and Marquise Lee embarked on a 4 month, 50 state tour of the United States collecting stories for their I'm From Driftwood site. We'll be sharing some of the stories they collected along with some of the insight into what they saw. They're still encouraging people to submit their written stories via IFD. You can follow IFD on Facebook, Twitter and YouTube.
CHECK OUT OUR RECENT LGBT STORIES…
Father Comes Out After 28 Years of Marriage [tr]
Coming Out in a Cuban Family [tr]
It's Okay to Be Gay in Montana[tr]
Teen Becomes More Popular After Coming Out in Conservative Town [tr]