Gay news sites: Will your favorite still be around next year?

Provincetown lesbian couple finds message in a bottle from 1961.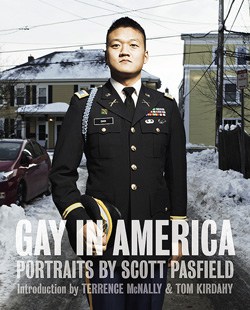 Scott Pasfield on his new book, Gay in America: "I photographed men of every age, religion and race. Young men, seniors, Muslims, Jews, white and black, rich, poor, anonymous and familiar. I met men dealing with the universal issues of growing up, religion, violence, immigration, marriage, parenting, family, love-but as gay men."

Yep, it's the world's oldest two-faced cat.

UK politicians freak out that Britney Spears is running around London filming a video with a gun in her hand. Wait till they see what she does with an umbrella.

NYT on the Ledyard, New York town clerk Rose Marie Belforti, who is refusing to sign marriage licenses for same-sex couples: "For me to participate in the same-sex marriage application process I don't feel is right," she said. "God doesn't want me to do this, so I can't do what God doesn't want me to do, just like I can't steal, or any of the other things that God doesn't want me to do."

Rihanna gets thrown out of farmer's field for racy music video shoot.

Alexander Skarsgard tries to be a plain jane.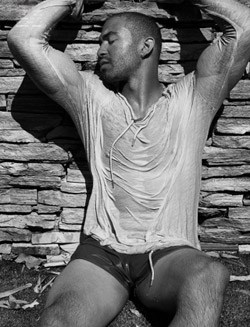 L.A. Dodger Matt Kemp gets wet for Flaunt.

A sneak peek at Adele's "Someone Like You" video.

Gay DC physician hosts Obama fundraising dinner: "An announcement of the event on Facebook says participants are being asked to contribute $35,800 per person to attend a pre-dinner photo reception, the dinner itself, and a 'VIP clutch' with the president. Those attending the photo reception and dinner only are being asked to contribute $35,800 per couple and those attending just the pre-dinner reception are asked to contribute $10,000 per person, according to the Facebook announcement."

Brian Burke wants action on anti-gay hockey slur.

Thousands of surface-to-air missiles go missing in Libya: "Though Libya had an estimated 20,000 man-portable surface-to-air missiles before the popular uprising began in February, Assistant Secretary of State Andrew Shapiro told ABC News today the government does not have a clear picture of how many missiles they're trying to track down."