GLAAD called on the Philadelphia Flyers and NHL to take action over Flyer Wayne Simmonds' anti-gay slur toward New York Rangers' Sean Avery at a preseason game last night.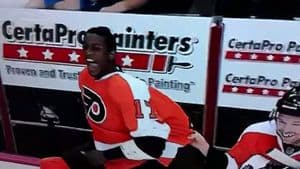 "Hate speech and anti-gay slurs have no place on the ice rink," said GLAAD Acting President Mike Thompson. "The word that Simmonds used is the same word that is hurled at LGBT youth on the playground and in our schools, creating a climate of intolerance and hostility. He should not only apologize for this anti-gay outburst, but the Philadelphia Flyers and the NHL have a responsibility to take action and educate their fans about why this word is unacceptable."
GLAAD is in dialogue the Philadelphia Flyers as well as the National Hockey League (NHL) about specific next steps.
Earlier…
Sean Avery Was Called a 'F**king Faggot' on the Ice. Will the NHL Care? — VIDEO [tr]
Did Philadelphia Flyer Wayne Simmonds Call Sean Avery a 'Faggot'?: VIDEO [tr]