Mitch Stein, the former summer water polo coach at Charter Oak High School in Covina, California, has filed a complaint against the school district following his firing in response to photos that were taken from his Facebook and MySpace pages and mailed to the principal anonymously, the Whittier Daily News reports: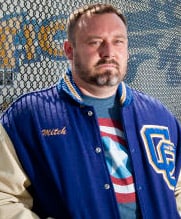 Stein said the letter included two photos, one of him posing with two drag queens and the other of him about to eat a corn dog. According to the complaint, the letter's author called Stein "unfit to coach" and threatened to go to the school board if he was not fired immediately.
Stein said he promised to have the pictures taken down, but he said Wiard was adamant that he be fired. Wiard did not return calls requesting comment.
"The reaction to that letter, in my opinion, was homophobic," Stein said.
According to Stein's attorney, the principal told Stein, "Oh, by the way, we're not doing it because you're gay," which immediately made him realize the opposite.
Superintendent Mike Hendricks denies the charges: "We do not discriminate against anyone."
Students are reportedly rallying around Stein, whose team was undefeated.
(image whittier daily news)