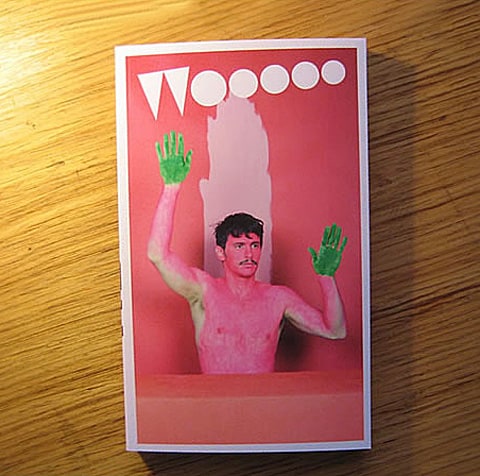 James Franco appears shirtless and doused in pink paint on the cover of the new issue of 'Wooooo' magazine, an independently produced interview zine.
In other, Franco news, James was recently at the Toronto International Film Festival where he offered up cash for a 13-year-old girl's fan art of himself.
Franco was in town to discuss his collaboration with Gus van Sant, a multi-media installation based on My Own Private Idaho, CTV reports:
One of the films, "My Own Private River," is a feature-length collection of deleted scenes and alternate takes from the original shoot, while companion piece "Idaho" was developed from one of three scripts Van Sant used to create the original movie. Franco was 13 when that film — a dreamy drama that casted River Phoenix and Keanu Reeves as teenage hustlers with a complex relationship — was released. He said that he used to rent the VHS copy of the movie from his local video store over and over again.
"It was just something about the movie — the esthetic, the themes, I guess the idea of a makeshift family, River's incredible performance … and even the clothes," said Franco, seated next to Van Sant.
"I remember at the time I'd try to dress like River's character."
Franco and Van Sant — who was also present at Sunday's session — collaborated on the Academy Award winning film "Milk," and Van Sant remembered that even then, Franco wouldn't stop asking him about "Idaho."
"I'm just plain obsessed with 'My Own Private Idaho,"' said Franco, wearing a striped mohair sweater over a collared shirt with jeans and black boots.