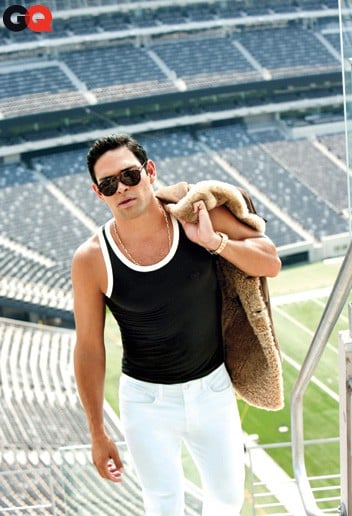 Green Bay Packers quarterback Aaron Rodgers this week mocked a photo spread of Jets quarterback Mark Sanchez which appears in this month's GQ, appearing to suggest that it wasn't manly enough.
Said Rodgers of the photo, which shows Sanchez in Tommy Hilfiger sunglasses, white Gucci jeans, and a tight black Dolce & Gabbana tank top with a Gucci coat slung over his shoulder:
"Look at this, that's embarrassing. Page 94 of this GQ thing here, that's terrible."
Sanchez responded to the remarks:
"I think he was, obviously, making a joke out of it, and that's fine, giving me a good ribbing like the guys on our team. That's totally understandable, but I'm just happy that it ended up working out for a good cause and we got to partner with two great companies and one great charity, with Hugo Boss and Tuesday's Children. It worked out for the better and I can take a little razzing for the way it ended up. I know he's just joking around, so that's totally fine."
Duane Roggendorf sounds off in This is FYF:
In all seriousness, my primary irritation with all of this is the fact that it's even a story. Why? Because in being published, this just perpetuates the idea that Sanchez has anything whatsoever to be ashamed of in wearing clothes that fit, which further perpetuates a permeating element of sports culture in general – and, ultimately, the concept of manhood itself – which is the idea that our masculinity is constantly called into question and must be proved EVERY SECOND OF EVERY DAY by completing asinine "tests" like not flinching when someone punches you, denying you've ever enjoyed the sound of music that isn't Pantera or Santana(??) (or enjoyed The Sound of Music, period!) and a thousand other patently ridiculous "proofs" that have nothing to do with being truly manly and everything to do with being a lemming who'll follow anyone off a cliff for fear of being ridiculed.
As far as we're concerned, Sanchez should keep doing these types of photo spreads as long as he wants.
What's next, Tom Brady in a commercial for Uggs?
Well, yes, AFTER THE JUMP…