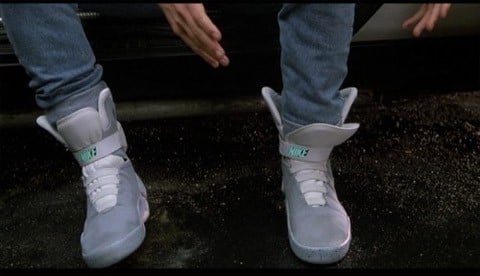 Marty McFly fans around the web are freaking out that Nike is about to go Back to the Future:
Those nifty auto-lacing Nike Air Mags that Marty McFly sports during his trip to futuristic Hill Valley will apparently be on your local shelves soon, no vehicular chrono-jumps required. The shoe company filed a patent for the design last year, and now it would appear they have made it through production and are nearly ready for all you McFlys.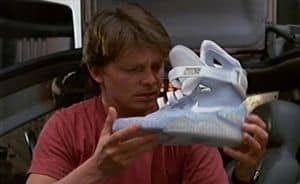 SlashFilm writes:
Yep, this is an announcement of Nike Air Mag shoes, aka the self-lacing sneakers seen in Back to the Future II. (Looks like we don't have to wait until 2015 for those, as the film prophesied.) Nike patented the self-lacing design last year and now it looks like the shoes are ready for market. Marshall's most recent tweet says "Going to need a lot of hover boards" and points to the video embedded below. Unless you've lived the past twenty-two years coveting these shoes, you can relax now.
A peek into the closet, AFTER THE JUMP…