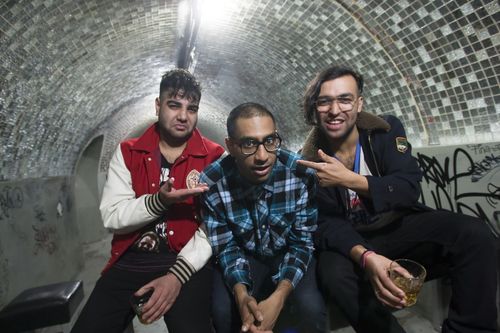 Norman Brannon is a pop critic, musician, and author based in New York City. He presents a weekly music update here on Towleroad and writes regularly at Nervous Acid.  
Follow Norman on Twitter at @nervousacid.
EXTENDED PLAY:
Das Racist Relax (Greedhead Music)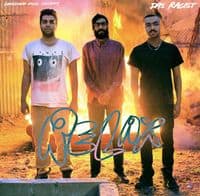 The first time I saw Das Racist was an accident — and even as far as accidents go, it was especially unexpected. They were set up on a makeshift stage on the first floor of New York's Whitney Museum, at one point bringing a young child on stage to help sing the only real hook to their best-known song: "I'm at the Combination Pizza Hut and Taco Bell!" On some level, this was a perfect introduction: Since 2008, the Brooklyn-based hip hop trio have been merging high and low art with a postmodernist's determination, and on their first official album, Relax, Das Racist refine this ideocultural pastiche to include their closest approximation to commercial hip-hop. In that sense, "Girl" is probably the album's most startling revelation — an Iberian new wave track with a purely pop chorus is actually subversive for these guys — but even more conventional tracks like lead single "Michael Jackson" or "Selena" take rap's historic sense of wordplay to its least obvious conclusion: the first merges Spanish lyrics with Lion King jungle-speak before, apropos of nothing, announcing, "Yeah, I'm f**king great at raaaapppppping!"; the second replaces an entire verse with a series of nonsensical syllables. Of course, it's an acute sense of self-awareness that separates Das Racist from, say, Jay-Z and Kanye West — who most recently released an entire album boasting of their riches during the country's worst economic climate since the Depression — and on "The Trick," a track produced by Vampire Weekend's out keyboard player Rostam Batmanglij, you get the sense that when Heems thanks his fans for "coming to our shows and clapping again and again," it might be the only transparent lyric on the entire album. It's a suggestion that would, in fact, go completely unchallenged if he didn't follow it up by saying, "I'm wack / Yo, I never tell the truth."
Also out today: Ladytron — Gravity The Seducer (Nettwerk), Blondie — Panic of Girls: U.S. Edition (Noble), Melanie C — The Sea (AIS), St. Vincent — Strange Mercy (4AD), John Barrowman — Tonight's The Night: The Very Best (Sony UK), Wild Flag — Wild Flag (Merge), Melissa Ferrick — Still Right Here (Mpress), Toro Y Moi — Freaking Out EP (Carpark), Mates Of State — Mountaintops (Barsuk)
THE DISPATCH: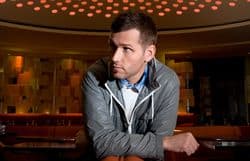 It's been a hell of a week for electrohouse producer Kaskade: On the bright side, Ryan Raddon — as he's known to his mother — picked up a new accolade this week when the readers of DJ Times voted him America's Best DJ. On the other hand, earlier this week a fan pulled his shoulder out of his socket. "Lucky for me," he says, "one of my backstage crew knew what to do and popped it right back in."

 Unearthed video of Barbra Streisand emerges: "I feel like a faggot," she says.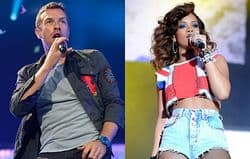 More details are surfacing about Mylo Xyloto, the forthcoming new album by Coldplay, including this interesting tidbit: The 14-song album will also feature "Princess of China" — a duet between Chris Martin and Rihanna.

 Patrick Wolf is finally coming to America to support his excellent new album Lupercalia — whose lead single features a very American video. "I confused the whole of the United Kingdom with that," says Wolf. "But I was really on a Chet Baker tip and a Bruce Weber tip and thinking about Brian Wilson. That's a big part of the music I've grown up listening to."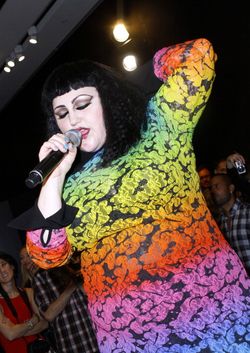 Beth Ditto came to New York City last week for Fashion's Night Out, where she showed up at the MAC Cosmetics store in Soho for a solo performance with a rainbow-colored dress and a pair of voguing male backup dancers in tow. She played two originals and two covers, including Dolly Parton's "Jolene" and — naturally! — Madonna's "Vogue."

 Also covering Madonna this week: Vanessa Carlton feels "Like a Virgin."

 Morgan Spurlock, director of Super Size Me and The Greatest Movie Ever Sold, premiered a new documentary series for Hulu called A Day In The Life, and his latest subject is copyright rebel and mashup master artist Girl Talk.

 Michael Stipe has a Tumblr.

 If you're curious about the upcoming feature-length Sigur Rós film, Inni, you're not gonna get a straight answer from them: This week the band released a new teaser video featuring an extremely ambient backing track and film of people cutting fabric. Because, like, that explains everything.
THE DOWNLOAD:
DOWNLOAD: Crazy P — "Open For Service"
The first of this week's free downloads comes from the long-running UK disco-house duo Crazy P. Formerly — and perhaps better — known as Crazy Penis, the Nottingham-based crew helped establish the legendary Manchester house label Paper Recordings in the '90s and made an extended splash on 2008's Stop Space Return for 20/20 Vision. "Open For Service" is the opening track from When We On — their first full-length for OM Records, due out on September 27. The single is out now.
DOWNLOAD: Sneaky Sound System — "We Love" (Bart B More Remix)
The Sydney-based Sneaky Sound System are set to release their third album, From Here To Anywhere, on October 7 via Modular Recordings — the label most recently responsible for Cut Copy, among others. Lead single "We Love" was already a classy club-tinged electropop single before Dutch producer Bart B More got his hands on it, but on the remix, the synths get filthy, cutting the difference between mid-'90s house and a house party at Diplo's.
SOUND & VISION:
Diamond Rings — "You & Me"
Toronto's John O, better known as Diamond Rings, returns with a video that speaks to the likely childhood of an androgynous synthpop artist — a world in which kids paint themselves up in make up, mace their bullies, and then fly away in a homemade spaceship. It's a dream come true for most of us.
Battles — "My Machines"
Let's just immediately put this one up for an Awesome Video Award: Brooklyn's Battles team up with '80s new wave legend Gary Numan at a suburban galleria mall while a young man wages a futile battle with the escalator that even the emergency stop button can't end. Unbelievably, it was all shot in one take.
Eli Escobar — "Desire" (featuring Nomi Ruiz)
New York DJ Eli Escobar teams up with the former voice of Hercules & Love Affair and current Jessica 6 principal Nomi Ruiz for "Desire" — a quintessential freestyle house track that unapologetically fuses Frankie Knuckles with Jellybean Benitez. Which, if you're unsure, is a good thing.
Fanfarlo — "Replicate"
They've been called London's Arcade Fire — which is really just a lazy way of saying they have permanent mandolin and glockenspiel players in their band — but Fanfarlo have forged a more unique path for themselves, generally by hewing closer to the conventionally pop aspects of their avant-pop identity and leaving the marching bands at home. "Replicate" is the first single from their as-yet untitled second album.