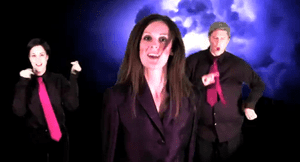 "Pray Away the Gay," the surprisingly catchy new release from Michele Bachmann, ft. Rick Santorum and Marcus.

Comedian makes mind-blowingly inappropriate "special needs" joke at Palin rally.

California Senate OKs anti-bullying law. Now it goes to the governor, who is certain to sign it.

WTF? CIA, MI6 helped Qaddafi persecute dissidents. Conclusion: Western security services are little different from secret police in dictatorships.

Rick Santorum vs. student.

Cops say Salt Lake City gay-bashings are unrelated.
Log Cabin Republican explains "why I will vote Republican in 2012." Hint: it's all about the money.

Today in shoddy copy-editing: "25% of Americans say they would give up their 'basic civil liberties' in exchange for freedom." Come again?

Glenn Beck: "African-American" is out, "colored" is in.

New swine flu strain sickened two children, who both recovered. (Is this a viral marketing campaign for Contagion?)

Amazon founder's space probe bites the dust.


Scientists confirm dry lakebed on Mars. 

Uganda Minister of Health: "Pray the AIDS away."

Lady Gaga's latest column is out.
(Mars photo credit: ESA/DLR/FU Berlin)