The NHL said it would take no action against Philadelphia Flyer Wayne Simmonds for an anti-gay slur which was directed at Sean Avery at a preseason game on Monday night, USA Today reports: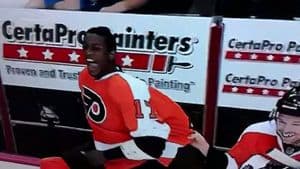 "Since there are conflicting accounts of what transpired on the ice, we have been unable to substantiate with the necessary degree of certainty what was said and by whom," said NHL senior executive vice president of hockey operations Colin Campbell, who handled the case. "Specifically, Flyers player Wayne Simmonds has expressly denied using the homophobic slur he is alleged to have said. Additionally, none of the on-ice officials close to the altercation in question heard any inappropriate slurs uttered by either of the primary antagonists. In light of this, we are unable at this time to take any disciplinary action with respect to last night's events."
GLAAD yesterday called on the NHL and Flyers to take action for the slur.
Watch the clip of Simmonds mouthing the slur, AFTER THE JUMP…
So if he didn't say "f**king faggot" what did he say?
Previously…
Sean Avery Was Called a 'F**king Faggot' on the Ice. Will the NHL Care? — VIDEO [tr]
Did Philadelphia Flyer Wayne Simmonds Call Sean Avery a 'Faggot'?: VIDEO [tr]